Golden Retriever & Golden Doodle Breeders
With Puppies For Sale!
Hunnington's Goldens, home of quality AKC Golden Retrievers, was established in 1973, and is a family owned and operated breeding facility. Located just 7 miles north of Covington, LA., the kennel sits on 10 acres of country atmosphere surrounded by 100 year old pecan trees.
Supplying lifelong companions is not only our job, it's our passion. For over 40 years, we have been providing the people of Louisiana with some of the finest Golden Retrievers. Fifteen years ago, we integrated Golden Doodles into our breeding program. If you are looking to add a member to your family, contact Hunnington Farms today. We have puppies for sale that are looking for that perfect home.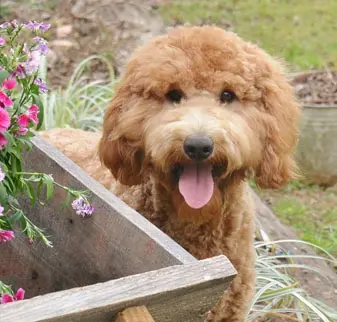 Hunnington Farms is a breeding facility that believes in breeding the finest animals. We are a family-owned farm that started breeding dogs purely out of love for the animals. The way our dogs have always enriched our lives and assisted in running our farm made us want to breed the same dogs. We firmly believe the best possible dog breed for a single owner or a family with children are Golden Doodles and Golden Retrievers.
No matter what trait you are looking for in your next pet, Hunnington Farms breeds the perfect dog for you. If a loyal, fun loving, ultra obedient and a true lifelong friend is what you want, we have the finest Golden Retriever puppies in Louisiana. If you?re looking for all the traits of a Golden Retriever infused with the beauty of a poodle, our Golden Doodle Puppies have it all.
Thank you for visiting our website. Here you will find valuable information on the breeds we provide and the puppies we have for sale. We are a full service farm that has transformed a small portion into our breeding haven. We follow all AKC breeding requirements and go the extra mile to provide every home with the highest quality pet. All of our breeding dogs are OFA certified for hips, patellas, elbows, dental, and heart. We look forward to hearing from you.