Sindee Guillot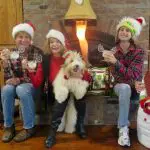 Dear Leslie and Robert,
My family wanted to thank you again for providing our family with such a sweet little golden doodle. We picked "Benji", the little 4 month old male puppy from Murr and Mickey's litter. We just had him neutered, and he now weighs 25 pounds and is 9 months old. He has such a sweet disposition, and everyone he meets falls in love with him. He is very smart and aims to please. He is wonderful with our 5 grandchildren ranging from 7 months to 15. He also loves to retrieve just like our old golden. It is so nice to have a dog that does not shed. I didn't think that any dog could ever replace our golden retriever that we adopted from you in 2000. However, this little guy has stolen all of our hearts.Thank you so much for the hard work, care, and effort you put into your breeding to make sure that your puppies are exceptional!
Sindee Guillot
Cherie Martin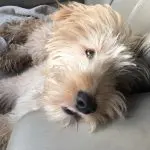 Just wanted to say we love our Teddy Bear!!
He is the smartest dog we have ever owned! His personality is one of a kind. He is loved much and continues to show us unconditional love!!
Thank you Huntington Farms for the best breed ever!!!
Cherie Martin
Deb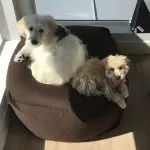 Dear Leslie,
I wanted to give you an update on our puppy from your wonderful farm! Mark and I can't thank you and everyone else enough!
We will forever be grateful to you!
Thanks again!
Deb
Dee Thibodau
Ansel is 6 months & loved everything about him.
Hunnington Farm is exceptional..
Thank you for my best friend!
Dee Thibodau
Mary & Tom
Beaux on his first Birthday. He is the best.
Can't wait til he gets his brother.
Thanks
Mary & Tom
Teresa Baker
We bought one of your pups almost a year ago and it has been the best purchase! Our daughter, JORDAN, is attending LSU and wanted a dog to come home to instead of an empty apartment. I don't worry so much now with her being in Louisiana since her dad and I live in California. Here is a picture of Jordi & Teddy.
Thank you for taking the time and helping her to chose the perfect pup, Teddy.
Teresa Baker
Hope Buquoi Denham Springs, LA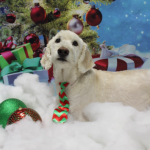 Mrs. Leslie,
Here is Jackson, our golden doodle, after being groomed. He became part of our family from Huntington Farms in October of 2010. Jackson has brought so much comfort and joy to our family especially following the flood of 2016! Merry Christmas and Happy New Year!!
Hope Buquoi Denham Springs, LA
Alexandra St. Laurent
This is Lili!
Hi there! We purchased our little girl (Lili) from you guy about 15 years ago and this September she passed at a dog hotel and it has been pretty hard on my family. I was wondering if you would add her to your alumni page? My it would make my and my family's day! Any one is fine, also we are hoping to purchase another baby from you soon! Take care
Alexandra St. Laurent
Katie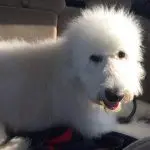 Leslie,
We couldn't be happier w our sweet boy Moose. He has the best temperment we have ever seen a dog have, he loves all people and animals alike. Thank you for breeding such great companions!
Katie
Lisa
Our English cream mini goldendoodle, Lucille Rose (aka LuLu), will turn 1 year old on October 13, 2017. We are so grateful for the amazing care that our LuLu received before we picked her up at 7 weeks old. She is so gorgeous, playful, and smart. We are looking forward to purchasing a Parti mini goldendoodle in a few years. I will only purchase our new puppy from Hunnington farms!
Lisa
Rebecca McDonald
Hey Mr. Robert and Mrs. Leslie,
We have spent the day celebrating Duke's (Winnie x Flynn) 5th Birthday! He is so precious, loved and adored by our family. I am so very thankful for him, he brings so much joy to my days. I am thankful for you letting us have him.
Rebecca McDonald
Libby Lockey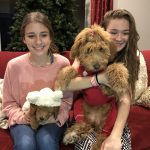 Hi Ms Leslie,
Thought you might enjoy these pics . This is Rosie from Blossom and Toby at 5 months old and her brother Finn from Toby as well.
They are very loved !!!!
Libby Lockey
McKay Guilbeau
This is Jack!
He is 2 years old
His parents are Texas & Jewel!
McKay Guilbeau
Patricia Aymami
Belle is the love of my life. Being retired means I am with her all the time. I cannot tell you the complements I have gotten about her. How beautiful and how sweet she is. And I was pleasantly surprised at the number of people that recognized that she came from your farm. You have a wonderful reputation. Even my vet knew immediately that she was one of your dogs. Best decision I have ever made. Thank you so much.
Patricia Aymami
Mark Parker Royal Coatings, Inc.
Hey Leslie,
You named her Millie but we call her Lady. Best addition to the family ever. Here's a picture for the Alumni pages…
Mark Parker Royal Coatings, Inc.
awesle2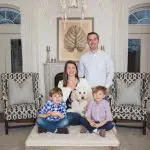 Hi Leslie!
We bought a puppy from you in 2016 from Annie x Toby. Just thought I would share some recent pics of Lula Mae. She is such a joy to our family and such a good dog!! We are actually considering getting another puppy. Do you know if you will breed Annie x Toby again?
awesle2
Amy Clark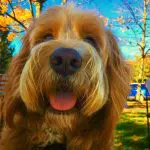 Hello,
I would like to send you a few photos of our dog, Cairo, to add to your alumni gallery. His father was named, Flyboy. We got him in December of 2014. He's been a super pet for our family!! We currently live in Germany and it's wonderful here because you can take your pets everywhere!!
Thank you!
Amy Clark
Chloe Guillemet
Since we got Ollie my mini golden doodle I felt happy and he is play he runs fast around the yard faster than me. When he was a small puppy he barked at stuff bigger than him that are non-living, but he is a happy, friendly, wild and crazy dog. But he is still my Ollie. He was born October, 24 2015. He loves playing and resting you name it. The vet said he was going to be dark as his ears but he just got lighter and lighter. He is bigger than his mom gen and his dad Ozzie.
Well he got spayed and shots twice or three times a year but he is Ollie the cute handsome. And he is a lover boy. Ollie loves eating human food and he watches me eat like I'm going to give him food but he is not (sometimes he does eat human food if it fall his favorite type of human food is some nice bacon)
And we live in Louisiana New Orleans where there's the nice seafood (The brand of dog food he had first was nutro but he has a new food called orenjen) he will always be there for me plus he is my little partner FOR LIFE.
Chloe Guillemet
Judy Ferrante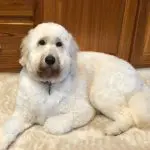 Leslie,
Here is a picture of Phoebe
Born: 7/23/2017
Parents: Pearl & Finn
Judy Ferrante
Heather Braiwick
Hunnington Farms is the absolute best! We are in love with our sweet girl, Charleigh! She is a friendly, smart, cuddly pup with the biggest heart. She has brought so much joy to our family! We will come back for another Goldendoodle in the future! Thank you Hunnington!!!
Heather Braiwick
Marjorie Whittington
She is beautiful!!! Built just like Happy!!
Marjorie Whittington
Gina Collins
Dear Leslie,
Just wanted to send you an update on sweet "Reese". She has adjusted beautifully and has been incredibly easy to train. We have been kennel training her, and within a week she was sitting by the door to let us know she needed to go out. Her disposition is amazingly calm and sweet…..she's smarter than many humans I know lol!
Sincerely,
Gina Collins
Sarah Labiche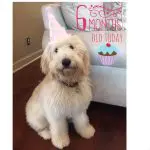 Sarah Labiche
Roberta Lottinger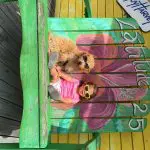 Roberta Lottinger
Janeann Voebel
best dogs, bar none!!!! We got our Bailey there almost 5 yrs ago, and we can't imagine our lives without her!!! Best Temperament, and sweet as ever!!! Thanks Hunnington Farms!
Janeann Voebel
Austin Gaines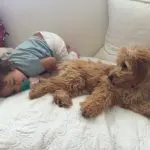 Hey Leslie –
Hope all is well. I was just hanging with our pup and wanted to let you know how much we love her. She is an exceptional puppy. She truly has been amazing. Thank you so much. We absolutely love her.
Austin Gaines
Dale & Pat Gaudet
Leslie and Robert Jarrell are both friendly and professional, often an unusual combination. My pre purchase investigation found nothing but praise for their service and dogs, all of which appear to be happy and healthy. We're very pleased with our pup and it appears that she is with us. We've both had dogs for most of our lives but neither of us imagined that a dog could be as smart and loving as a golden until we adopted our first 13 years ago. She's healthy, active and unbelievably loveable and still with us.
Dale & Pat Gaudet
Baton Rouge
Dale & Pat Gaudet
Mallory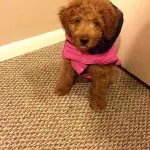 Hi Mrs Leslie! It's Mallory, just wanted to send you a few pictures of Luna. She is currently 11.8 pounds and is doing great! I couldn't be happier with the choice I made, she is perfect. Thank you!!
Mallory
Kathleen Drew
We now have our gorgeous Bayley from Charm and Charlie, my sister has the wonderful Nellie from Charlie and Jewel ( everybody's love) and Dynamo our little Obie from Missippi and Flyboy.
Hands full but simply amazing, gorgeous, fun, loving pups which are ridiculously heathy and the loves of our life
What an unbelievable group we got
Love hunnington farms
Kathleen Drew
Linda Dwyer
Thank you for our precious pups!!!! We LOVE Maggie and Molly!!!! They are soooo adorable and smart!!!! …like Barley!!!!
Below are some pictures for y'all. Praying for continued healing for Robert and for a perfect smooth transition for all of you with Jennifer moving. We will be back again. ..we love Hunnington Doodles!!!! =)
Blessings,
The Dwyers. .Sean, Linda, Barley, Molly and Maggie
Linda Dwyer
Kade Ordoyne
Hello,
Just wanted to shoot you an email real quick updating you on the golden doodle we bought from y'all last year. He was from Murr and Hemi's litter last year and since we've gotten Buddy, he's been worth every penny and more! The wife and I can't thank you enough for letting us bring this joy into our lives!!!
Kade Ordoyne
Johnny Mann
Mr. & Mrs. Jarrell,
We just want you to know that WE LOVE TUCKER!!!
That puppy is perfect for us!!! His demeanor is that of a genuinely happy child!!!
He is everything you said he would be — AND MORE!!!
THANK YOU — THANK YOU — THANK YOU!!!
Funny thing, the 1st week we had him, we went to a friends home in our neighborhood. We saw a man walking a white puppy! Turns out, that puppy is either Tucker's brother or cousin. Such a small world.
Again, Thank You for the Joy you have brought to our lives.
Best Best Wishes & God Bless,
Johnny Mann
Johnny Mann
Mike D.
Hey Leslie,
I hope this email finds you doing good. My name is Mike, and I bought a male golden that I named "Bear" from you about a year and a half ago. He came from a litter from Tess and Banks. It is definitely a compliment to you and Hunnington because he is a fantastic dog in every way. I don't believe I've ever met a dog with such personality. When he goes to the vet or walks in the park, people will come up to me and say you must have gotten him from across the lake at Hunnington. Even the Vet knew where he was from when she first met him. The vet even said, "there is no mistaking Hunnington goldens!" You definitely are a cut above the rest with quality dogs. I had Bear fixed last year and now I am looking for a female companion for him because he is a very social dog. Naturally, I would like to get her from you. I don't know if you have any females puppies available or possibly even an young adult female that you are looking to sell. Look forward to hearing from you. Thanks again, Mike D.
Mike D.
Sally R.
I have three goldens from Hunnington Farms and they are my best friends. they each have
their own personalities. They are healthy, beautiful, sweet, and adorable, loves you uncondionally. I would love to have another one, but my family thinks I'm already crazy. It's like yu can't get enough of that wonderful feeling a golden gives you. Thank you Hunnington Farms!
Sally R.
Kathye B.
Huntington Farms is a fantastic kennel to do business with–we got our JRT from there and our Golden —fixing to get another JRT from them. Wonderful people wonderful breeder wonderful dogs!
Kathye B.
Sadie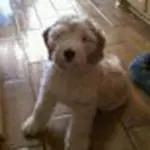 This is my cute little Sadie Ann. We got her in May.
Love her so much.
Thank you Hunnington Farms
Sadie
Alan & Suzy
Dear Leslie, Doug,
Here is a photo of Dusty at 9 months old and 75 lbs. We are proud of his selection as Dog of the month for May for Blue Buffalo. Thanks again for a wonderful Dog. We will sent you a link to his feature page in May.
Alan & Suzy
Kay
Hello, Leslie,
I just ran across an old "Rolodex" card with your contact info on it, and decided to look up your kennel to see if you all were still there. We bought a Golden Retriever puppy, a female, from you almost 12 1/2 years ago. My parents had purchased a Jack Russell Terrier from you and had noticed your beautiful Goldens. I'd had a Golden before kids, and was ready to add a dog to our family. My parents lived in New Orleans, and my three children and I drove in to see the puppies on a visit to them from Houston. All I had ever read about beautiful, well-formed Goldens, I saw in your beautiful dogs. We fell in love with them and chose a puppy. My parents picked her up when she was ready to go, and drove her to us in Lafayette, a half-way meeting place.
From the beginning, Coco was not only a beautiful puppy, but an incredibly special, loving and smart dog. She learned so readily, and grew into an amazing dog, and we all loved her so very much. Actually, everyone who met her loved her, and thought that she was THE most beautiful, sweet girl they'd ever met. One friend always commented on her walk…"like she was on a modeling runway…so regal…just like a showgirl!" Not an unfriendly cell in her body, she was friends with all people and dogs she encountered. We trusted her implicitly around anyone…except food on the table…she did steal once in a while, but was always so embarrassed when we caught her! She gave and wanted love unabashedly. Really, right to the very end. She did die, last June.
We still miss her….as my son says," There will never be another one like Coco…or one as good." That is the truth. Coco was so very special. I wanted you to know how much she was loved!
Kay
Donna V.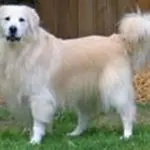 Hi Leslie…. it's Donna. Nicholas is doing fabulous…and yes we agree, gorgeous! You produce the most beautiful goldens. I can't tell you the number of times people say they know he is from Hunnington because of his appearance. Even though he is now 12, he still acts like he is young. People are amazed when I tell… them his age. Thank you so much for Nicholas….he is the heart of our family!
Donna V.
Galia C
Our Hunnington Farms dogs: Meggie (on the right) is the daughter of Twice as Hot 2 and Halley's Comet and Chloe is the daughter of Diesel and Peach Cobbler. Both are incredibly sweet dogs!
Galia C
Lisa S.
I second that! My Lilly, one of Leslie's goldens, comes with me to work every day as a therapy dog. She has the best personality.
Lisa S.
Letha F.
I have now two Jack Russell's that I have gotten from Leslie! They are the best dogs I've ever had. Leslie, you are the best! Thanks for great dogs or might I say"great babies"!!!
Letha F.
Margie S.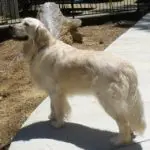 Leslie… You have the greatest dogs in the world. The temperament and affection that they show is above all others. Congratulations to you for great and fine breeding of this breed… I have one I know.
Margie S.
luvgoldens
I have had four goldens from Hunnington Farms and they are the most well behaved, healthy dogs. I know many, many friends, family, and even a vet that own Hunnington Goldens. She breeds wonderful dogs and they have brought such joy to my life. Best darn goldens in the world!
luvgoldens
Suzie A.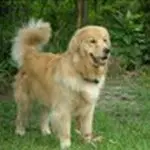 When I am asked where I got "Journey", I am no longer suprised by the responses that I hear. More times than not, "Oh, I can tell he is a Hunnington Golden!" Leslie was amazing in every respect. After losing our 13 year old Golden, I was a bit nervous about picking just the right pup that would adjust to our lifestyle. Well, he is amazing! I cannot thank Leslie enough for putting up with my questions, visits, and timeline of a "Grand"baby's birth. Hunnington Farms is a very special place and Leslie is a very special person!
Suzie A.
imtheherc
I can't say enough about my puppy and the breeders of him. They are very thorough, knowledgeable, and were willing to answer any questions I had. They went over and above to see that I got what I wanted and stayed way past the time they were supposed to close. I'd recommend them to anyone who wants a healthy, happy, well adjusted puppy. I've had mine for one day and he's running around happy and playing.
imtheherc
haroldt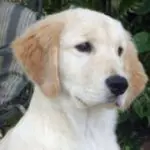 I recently took my family to visit Hunnington Farms so my children could see where their "Nana" was born. The entire visit was such a delight, starting with playing with the puppies, to helping to exercise older goldens, and ending with playing with "Larry" the goat. My kids will never forget their wonderfil day at Hunnington. "Nana" is now seven and is happy and healthy. Hunnington is a beautiful, well-manicured property with lovely goldens dotting the landscape.
haroldt
Emily D.
From the moment I placed my first phone call to Hunnington I was impressed. We do not live locally and were not able to hand pick our puppy. We shared with Hunnington Farms what we wanted in a dog and Leslie chose the perfect dog for us. We are constantly getting compliments on Trixie from vets and trainers on what a fabulous dog we have. We will definitely use Hunnington Breeders in the future.
Emily D.
TGouner
I recently purchased a golden from Hunnington Farms and toured the whole facility. Our puppy is only six months old and already knows over ten different commands. He is happy, healthy, and extremely outgoing. I have been asked by several people where we got him and they complimented on how beautiful he is.
TGouner
Lafayette Lawyer
I became acquainted with Hunnington Farms through friends in New Orleans who had gotten two beautiful dogs from Hunnington. We now have two goldens from Hunnington. The eleven year old is gorgeous, super sweet, and everything you could ask for in a dog. She is an angel in dog fur. She has no medical issues and the vet remarked yesterday what great shape she is in for her age. Our second is eighteen months old. She is smart, smart, and quite simply the most beautiful dog I have ever seen. She is a joy. We also have several friends here in Lafayette who have gotten goldens from Hunnington. Again, they are gorgeous dogs who are happy and healthy. Their families adore their dogs. Leslie shows buyers all of the information about the parents and their x-rays for hip and elbow dysplasia as well as that same information for several generations. The Hunnington dogs we have now have all been healthy, beautiful dogs with exceedingly nice temperaments. Some are big dogs and some are not. They are everything you could ask for in a dog and more. The kennel has a number of dogs, but they all look clean, happy, and healthy.
Lafayette Lawyer
Sandy S.
Hi, we got Ava from y'all three years ago and she is the most wonderful Golden ever!!
Sandy S.
Michelle R.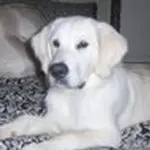 Our dog we bought from you about a month ago is doing great. Her name is Brie (means Marshland). She is the puppy of Bacall and Yogi. She still loves going to the garden and is learning new tricks every day. She is the favorite puppy of the neighborhood. Thanks for making my boys smile again after losing Roxie.
Michelle R.
Lisa C.
Hunnington Farms was so impressive since the first time I visited to pick out my puppy, Leslie and her team do an amazing job. Scout has been such a joy to our family. We even bring him back to board and they are so accomodating and ready to help us with him. We love our Scout and he loves going back to the farm to see his friends!
Lisa C.
Sean and Linda
Dear Leslie, and Hunnington Farms,
Sean is going to write you as well…but I just had to email you and tell how in LOVE we are with our new Hunnington Farms mini Golden Doodle…BARLEY!!!! Not only is she beautiful, friendly,and loving but EXTREMELY smart!!!! God answered our prayers and truly blessed us with her!!! You all do such an awesome job breeding these precious puppies. I've had several friends ask where we got her and in fact one of our friends stopped by your farm today and picked out their mini Golden Doodle!!!!
Many, many thanks again…
Linda Dwyer (Sean, BARLEY and family)
Sean and Linda
Sean D
Leslie,
Sean here, Linda's husband. I ditto everything Linda said about our new puppy! She is great. You guys socialize them so well that she accepted my son and I on our 5 hour ride home like we were part of her litter. She was part of our home in the first hour, too. I'll write you a testimonial soon in that regard.
Hey, your employees were great, too, especially with their patience with us. Linda and I spent about an hour and a half looking at the pups, and they were nothing but helpful, professional, and kind.
We got you one sale this week — expect more from Ruston, LA!
Sean D
Seth & Noelle
Leslie,
We wanted to give you an update and say thank you for our wonderful puppy. Nola is turning 10-months this week and she is our never-ending joy. She has grown into such a well behaved puppy who is the movie-star in our 800-unit condo building. There is not a person in the building who doesn't stop us to share how wonderful and beautiful they think she is. We are not sure if anyone has followed through with a purchase, but we are constantly praising you and Hunnington Farms here in NYC and would love for everyone to have the experience we have had with her. Thank you again for providing such a wonderful dog as we start our family and for how helpful you were through the entire process.
Seth & Noelle
Seth & Noelle
Leslie Jarrell
mrs.leslie
we got a puppy from you january 21 2012 we got it for my little girl isabella we decided to name her london she is amazing there is really no words to explain her i could go and on about how great she is she is just the most loving dog ever my little girl is just been the happiest girl in the world she is in a caring loving home and she's becoming a great duck dog when sandy and shockey had her they had a wonderful puppy we just wanted to tell u how much we thank you for giving us the most wonderful golden retriever. P.S.if i told u how awesome she was on the phone mine and you're phone bill would be very high.
Leslie Jarrell
Kevin D.
Just wanted to share a couple of pics of our beloved Duke. Needless to say that we are hopelessly in love with our new best friend. Thank you for making our daughter's birthday a very special one and for blessing our family with such a wonderful puppy.
Kevin D.
Nancie J.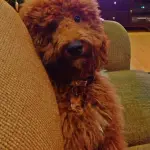 Wanted to let you know how much we love our golden doodle Tucker. He has been the best dog, I can't explain how much we love him. He's so smart and so easy to train. Everyone that meets him falls in love. We are so proud of him.
Nancie J.
Julie B
Hi Leslie,
Just wanted to drop by the site and send you guys a picture of Ginger. She's the daughter of Mickey and Boo-Boo, we adopted her in October. She is an absolute doll. Perfect dog with the perfect personality. She fits our family like a glove. Thanks!
Julie B
Chris W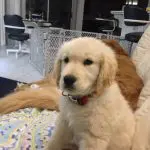 Leslie; We brought our puppy home from your farm on March 9th 2013. He was the last of his litter and after seeing your farm and meeting his parents, I knew he would be a great dog. Today after about 4 1/2 months he is doing great, house-trained, and the sweetest dog we could have asked for. He socialized with our 9-year-old Golden, Skip, and they play in the yard routinely. He had his first swimming lesson last week and it was a hoot! His papers say "The Sundance Kid" but we call him Sunny. He is a joy in our lives and we think the world of him. Thanks to you and your family for providing a breeding environment that is f=safe and clean for your puppies. All the best // Chris
Chris W
Kristen D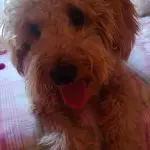 Our goldendoodle clara is the best dog you could ever have! Her mom and dad are Sam and Mickey. Clara is funny,super smart, and CRAZY! She loves everyone and everything and cheers every one up. Our family got er for christmas she was a huge suprise.
Clara is adorable.
Thank you hunninton farms!!!!
Kristen D
Lauren L.
This is our Moto-Moto!… He is about 7 months old now and the best dog we have ever had. He is so smart and well tempered. Every time we take him out in public we get stopped repeatedly and told how beautiful he is. I've never had a dog that at jus 7 months is so well behaved and content to just cuddle on the couch. Don't know what we would do without him in our lives! Thank you so much Huntington farms!
Lauren L.
Donna Barco
Hi Leslie,
Thanks to Leslie's devotion and love for Golden's Hunnington Farms has produced some of the most beautiful and loving Golden's in the South. I bought my first Golden from Leslie in 1999. Her name was Brinkley, and through the years was blessed with Baxter, Gracie, Gunner, Cooper and just the past few weeks with Oliver. His parents are Snowball and Jewel.. All were from Hunnington Farms. Leslie you have blessed my life through your Golden's in ways I will never ever be able to express. Thank you Leslie for producing Golden's with a sound mind and body, and a beautiful gentle spirit.
Sincerely,
Donna Barco
Tiffanie G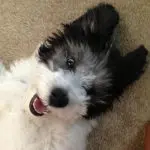 Hi Leslie,
Just wanted you to see how happy "Bo" is doing. He is such a dream and we couldn't be happier with our little man. Everyone says he looks like a little Disney character. We agree. Possibly the cutest pup I've ever seen.
Tiffanie G
Linda and Sean Dwyer
Dear Hunnington Farms,
Just wanted to share with you Barley…We absolutely LOVE her…she is so smart, funny and loving…not a day goes by that we don't laugh at something she does. You all have done an AMAZING job…thank you!!! We WILL be back for more goldendoodles in the future!!!
♥
Barley and the Dwyer's
Linda and Sean Dwyer
The Marsh's Marsh's
Our girls were so extremely excited when we surprised them with Ellie, our mini golden doodle puppy, in early October. She has been a joy for the entire family. Thank you all so much for helping guide us through choosing the perfect puppy for our family. We know, without a doubt, that Ellie was meant to be in our home. We are looking forward to many years of fun and wonderful memories with her.
Sincerely, Lee, Dani , Kinley and Kamryn
The Marsh's Marsh's
Katie A.
My husband and I were there in September to adopt one of the males from Shockey and Callie's litter. We ended up bringing home our "Gunner"! He is the sweetest, smartest, and funniest, puppy! His temperament is amazing and everyone who meets him immediately falls in love too! Gunner is also stunningly beautiful ( as you can see for yourself). He has brought us so much joy and laughter in the four short months he's been home with us and we are so happy we came to Hunnington Farms to choose our baby. You gave us a wonderful experience and have such a beautiful home for these puppies to start their lives. The hardest part was picking which one to take home! We've never owned a golden before but now we are a golden family for life!
Gunner is already in training with his daddy for next year's duck season and is catching on quick!
Thank you Hunnington Farms!
Katie A.
Stacy D.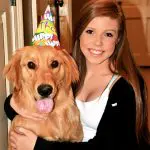 We just celebrated Duke's 1st Birthday! The last year has been a wonderful experience with our new puppy. Our whole family feels that he is not a pet, but a member of our family. Thank you Hunnington Farms for the best gift ever!
The Duck Family
Stacy D.
Patricia H.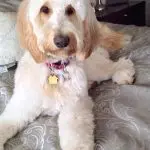 Hi Leslie,
We got "Cotton" from you a little over a year ago. He's a standard doodle. He's very smart, lovable and funny. I just wanted to send you a picture of my lovable goofball. Your farm is wonderful and I tell everyone about my experience there. Of course everyone loves Cotton and they want to know where we got him.
Thanks for breeding such great dogs!
Trish Hansen
Patricia H.
Chris W.
We brought our puppy home in March of 2013. We named him "Sunny". He is the most wonderful dog I've had in my life. Full of joy and energy and love. We chose Hunnington because we were told they are the BEST, but Leslie I have to say we are overjoyed to have him in our lives. And boy can he swim!! We have an older Golden and they get along very well. In fact Sunny keeps hm younger by keeping him on the go! We hope someday to return to Hunnington to give Sunny a brother! Thanks for being so good at "golden"! All the very best. Chris and Lynn
Chris W.
Candice W.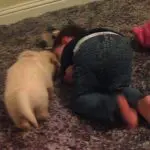 We just got our little puppy home today and I have to say I am amazed at how smart he is. He already whines at the door to go out! My 2 year old absolutely loves him. They've been inseparable all day. Truly the best!
Candice W.
Hailey C.
Hi Hunnington!!
I've been wanting to post about our AMAZING golden since the day we got him! Gauge is now 1 and a half years old. He is the best dog we have ever had. He is gorgeous and extremely smart! He has been a joy to have and always knows how to brighten even the gloomiest days! Thank you so much for raising such a wonderful breed of dogs!!!
With Love,
Hailey Champagne & Blake Fouquier
Hailey C.