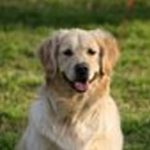 Hi, we got Ava from y'all three years ago and she is the most wonderful Golden ever!!
Sandy S.
Our dog we bought from you about a month ago is doing great. Her name is Brie (means Marshland). She is the puppy of Bacall and Yogi. She still loves going to the garden and is learning new tricks every day. She is the favorite puppy of the neighborhood. Thanks for making my boys smile again after losing Roxie.
Michelle R.
Hunnington Farms was so impressive since the first time I visited to pick out my puppy, Leslie and her team do an amazing job. Scout has been such a joy to our family. We even bring him back to board and they are so accomodating and ready to help us with him. We love our Scout and he loves going back to the farm to see his friends!
Lisa C.
Dear Leslie, and Hunnington Farms,
Sean is going to write you as well…but I just had to email you and tell how in LOVE we are with our new Hunnington Farms mini Golden Doodle…BARLEY!!!! Not only is she beautiful, friendly,and loving but EXTREMELY smart!!!! God answered our prayers and truly blessed us with her!!! You all do such an awesome job breeding these precious puppies. I've had several friends ask where we got her and in fact one of our friends stopped by your farm today and picked out their mini Golden Doodle!!!!
Many, many thanks again…
Linda Dwyer (Sean, BARLEY and family)
Sean and Linda
Leslie,
Sean here, Linda's husband. I ditto everything Linda said about our new puppy! She is great. You guys socialize them so well that she accepted my son and I on our 5 hour ride home like we were part of her litter. She was part of our home in the first hour, too. I'll write you a testimonial soon in that regard.
Hey, your employees were great, too, especially with their patience with us. Linda and I spent about an hour and a half looking at the pups, and they were nothing but helpful, professional, and kind.
We got you one sale this week — expect more from Ruston, LA!
Sean D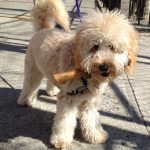 Leslie,
We wanted to give you an update and say thank you for our wonderful puppy. Nola is turning 10-months this week and she is our never-ending joy. She has grown into such a well behaved puppy who is the movie-star in our 800-unit condo building. There is not a person in the building who doesn't stop us to share how wonderful and beautiful they think she is. We are not sure if anyone has followed through with a purchase, but we are constantly praising you and Hunnington Farms here in NYC and would love for everyone to have the experience we have had with her. Thank you again for providing such a wonderful dog as we start our family and for how helpful you were through the entire process.
Seth & Noelle
Seth & Noelle
mrs.leslie
we got a puppy from you january 21 2012 we got it for my little girl isabella we decided to name her london she is amazing there is really no words to explain her i could go and on about how great she is she is just the most loving dog ever my little girl is just been the happiest girl in the world she is in a caring loving home and she's becoming a great duck dog when sandy and shockey had her they had a wonderful puppy we just wanted to tell u how much we thank you for giving us the most wonderful golden retriever. P.S.if i told u how awesome she was on the phone mine and you're phone bill would be very high.
Leslie Jarrell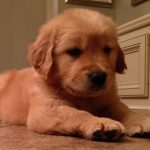 Just wanted to share a couple of pics of our beloved Duke. Needless to say that we are hopelessly in love with our new best friend. Thank you for making our daughter's birthday a very special one and for blessing our family with such a wonderful puppy.
Kevin D.
Wanted to let you know how much we love our golden doodle Tucker. He has been the best dog, I can't explain how much we love him. He's so smart and so easy to train. Everyone that meets him falls in love. We are so proud of him.
Nancie J.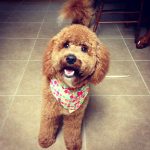 Hi Leslie,
Just wanted to drop by the site and send you guys a picture of Ginger. She's the daughter of Mickey and Boo-Boo, we adopted her in October. She is an absolute doll. Perfect dog with the perfect personality. She fits our family like a glove. Thanks!
Julie B
Leslie; We brought our puppy home from your farm on March 9th 2013. He was the last of his litter and after seeing your farm and meeting his parents, I knew he would be a great dog. Today after about 4 1/2 months he is doing great, house-trained, and the sweetest dog we could have asked for. He socialized with our 9-year-old Golden, Skip, and they play in the yard routinely. He had his first swimming lesson last week and it was a hoot! His papers say "The Sundance Kid" but we call him Sunny. He is a joy in our lives and we think the world of him. Thanks to you and your family for providing a breeding environment that is f=safe and clean for your puppies. All the best // Chris
Chris W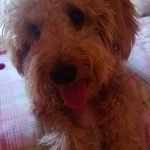 Our goldendoodle clara is the best dog you could ever have! Her mom and dad are Sam and Mickey. Clara is funny,super smart, and CRAZY! She loves everyone and everything and cheers every one up. Our family got er for christmas she was a huge suprise.
Clara is adorable.
Thank you hunninton farms!!!!
Kristen D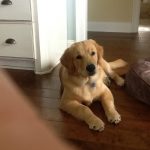 This is our Moto-Moto!… He is about 7 months old now and the best dog we have ever had. He is so smart and well tempered. Every time we take him out in public we get stopped repeatedly and told how beautiful he is. I've never had a dog that at jus 7 months is so well behaved and content to just cuddle on the couch. Don't know what we would do without him in our lives! Thank you so much Huntington farms!
Lauren L.
Hi Leslie,
Thanks to Leslie's devotion and love for Golden's Hunnington Farms has produced some of the most beautiful and loving Golden's in the South. I bought my first Golden from Leslie in 1999. Her name was Brinkley, and through the years was blessed with Baxter, Gracie, Gunner, Cooper and just the past few weeks with Oliver. His parents are Snowball and Jewel.. All were from Hunnington Farms. Leslie you have blessed my life through your Golden's in ways I will never ever be able to express. Thank you Leslie for producing Golden's with a sound mind and body, and a beautiful gentle spirit.
Sincerely,
Donna Barco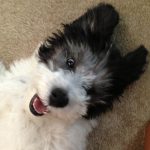 Hi Leslie,
Just wanted you to see how happy "Bo" is doing. He is such a dream and we couldn't be happier with our little man. Everyone says he looks like a little Disney character. We agree. Possibly the cutest pup I've ever seen.
Tiffanie G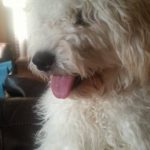 Dear Hunnington Farms,
Just wanted to share with you Barley…We absolutely LOVE her…she is so smart, funny and loving…not a day goes by that we don't laugh at something she does. You all have done an AMAZING job…thank you!!! We WILL be back for more goldendoodles in the future!!!
♥
Barley and the Dwyer's
Linda and Sean Dwyer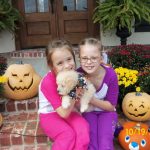 Our girls were so extremely excited when we surprised them with Ellie, our mini golden doodle puppy, in early October. She has been a joy for the entire family. Thank you all so much for helping guide us through choosing the perfect puppy for our family. We know, without a doubt, that Ellie was meant to be in our home. We are looking forward to many years of fun and wonderful memories with her.
Sincerely, Lee, Dani , Kinley and Kamryn
The Marsh's Marsh's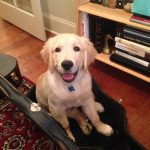 My husband and I were there in September to adopt one of the males from Shockey and Callie's litter. We ended up bringing home our "Gunner"! He is the sweetest, smartest, and funniest, puppy! His temperament is amazing and everyone who meets him immediately falls in love too! Gunner is also stunningly beautiful ( as you can see for yourself). He has brought us so much joy and laughter in the four short months he's been home with us and we are so happy we came to Hunnington Farms to choose our baby. You gave us a wonderful experience and have such a beautiful home for these puppies to start their lives. The hardest part was picking which one to take home! We've never owned a golden before but now we are a golden family for life!
Gunner is already in training with his daddy for next year's duck season and is catching on quick!
Thank you Hunnington Farms!
Katie A.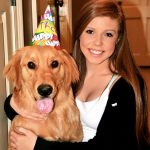 We just celebrated Duke's 1st Birthday! The last year has been a wonderful experience with our new puppy. Our whole family feels that he is not a pet, but a member of our family. Thank you Hunnington Farms for the best gift ever!
The Duck Family
Stacy D.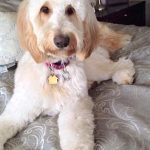 Hi Leslie,
We got "Cotton" from you a little over a year ago. He's a standard doodle. He's very smart, lovable and funny. I just wanted to send you a picture of my lovable goofball. Your farm is wonderful and I tell everyone about my experience there. Of course everyone loves Cotton and they want to know where we got him.
Thanks for breeding such great dogs!
Trish Hansen
Patricia H.
We brought our puppy home in March of 2013. We named him "Sunny". He is the most wonderful dog I've had in my life. Full of joy and energy and love. We chose Hunnington because we were told they are the BEST, but Leslie I have to say we are overjoyed to have him in our lives. And boy can he swim!! We have an older Golden and they get along very well. In fact Sunny keeps hm younger by keeping him on the go! We hope someday to return to Hunnington to give Sunny a brother! Thanks for being so good at "golden"! All the very best. Chris and Lynn
Chris W.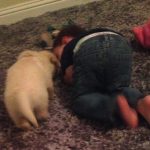 We just got our little puppy home today and I have to say I am amazed at how smart he is. He already whines at the door to go out! My 2 year old absolutely loves him. They've been inseparable all day. Truly the best!
Candice W.
Hi Hunnington!!
I've been wanting to post about our AMAZING golden since the day we got him! Gauge is now 1 and a half years old. He is the best dog we have ever had. He is gorgeous and extremely smart! He has been a joy to have and always knows how to brighten even the gloomiest days! Thank you so much for raising such a wonderful breed of dogs!!!
With Love,
Hailey Champagne & Blake Fouquier
Hailey C.